Walk In Coolers & Freezers Information
Walk In Coolers and Walk In Freezers
Are you in the market for a walk-in cooler or freezer for your business? These essential appliances play a crucial role in preserving your perishable items, and choosing the right one is a significant decision. In this guide, we'll walk you through everything you need to know about purchasing walk-in coolers and freezers, from their benefits to key features and important considerations.
Understanding the Benefits of Walk-In Coolers and Freezers
Walk-in coolers and freezers offer a host of advantages for businesses, from restaurants and grocery stores to florists and pharmaceutical companies. Here are some key benefits:
Ample Storage: Walk-ins provide substantial storage space, allowing you to stock a wide range of items. They can be configured in a wide variety of shapes and sizes suitable to your space.
Temperature Control: These units offer precise temperature control, ensuring your goods stay fresh and safe. You will find that most walk in coolers have a holding temperature of 35 Deg F and walkin freezers hold around -10 Deg F. for restaurant applications.
Efficient Cooling: They are designed for efficient cooling, which can help reduce energy costs. The refrigerations systems can be designed for minimal usage such as long term holding or for frequent opening of the doors in a busy kitchen.
Customizable: You can customize your walk-in cooler or freezer to suit your specific needs, whether you need more shelves, different shelving materials, or specific door configurations. Walkin Coolers can also be configured to hold beer kegs ensuring you have the coldest beer in town!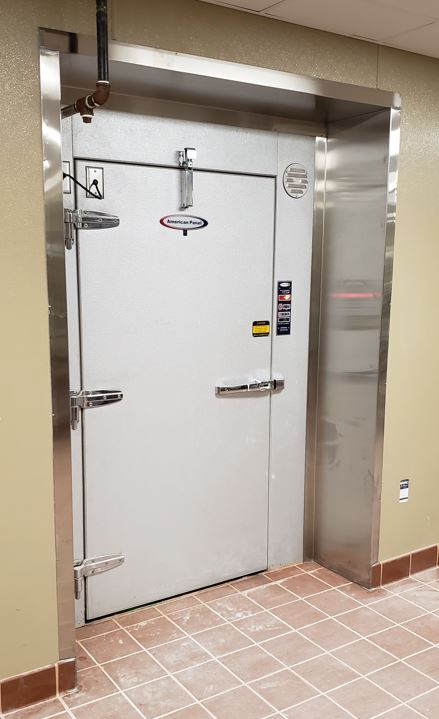 Walk In Coolers and Freezer can be built outside your building with a case opening to enter from inside your kitchen. A level transition from the floor of the kitchen to the floor of your walk in cooler is important to implement into your design.
Somtimes walk in coolers are built specifically for customers to use. These are the large drink walk in coolers you see at many conience stores. These are specially design to hold temperature of the product while drawing customers in with large glass windows and bright lightening. You may have even been grabbing your favorite drink while an employee is inside the walk in re-stocking.