Getting a margarita machine is a lucrative money making investment for your business. Margarita machines come in a variety of styles and installation options. Its important to make sure that you are picking the right margarita machine. To find out which one is right its good to know what your expected customer load will be and how large of the portions you are selling.
Companies like Frosty Factory offer usefule profit calculators as well to help guide you through the process.
Frost Factor profit calculator - https://www.frostyfactory.com/profit-calculator.php
Not all margarita machines are the same! Lets find the answers to these questions to make sure you are investing into the right machine.
What is the size of your glass?
Once the customer indicates their glass size, ask the customer to look at this chart together and go over the recovery time between each pour.
Will there be drink specials?
If so, it is important to note the recovery between standard serving sizes.
Will you be serving pitchers or carafes?
If so, it is important to note the maximum one-time serving size and the recovery time needed after the maximum pour is served.
How many flavors?
This will determine how many cylinders will be needed to accommodate (or bowls if batch-pourover style).
How many glasses do you expect to sell?
If low volume, a batch (pourover) machine will be a better fit. If higher volume, a hopper/cylinder should be specified. If exceptionally high volume, a remote continuous system is ideal.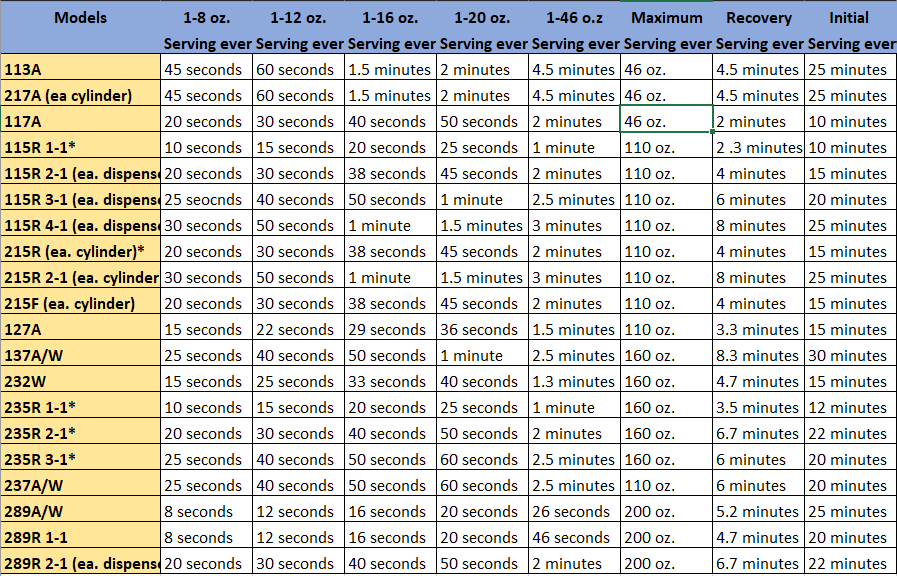 Batch Style Margarita Machines
Batch style freezers are NOT CONTINUOUS! A batch unit freezes one tankful (bowlful) at a time.
One of the main benefits of batch freezers is that thy DO NOT have a max pour limit. The operator can empty the entire 384 oz capacity at once if needed. When the tank runs out of mix, the tank must be refilled and allowed to freeze all over again.
A batch of mix will take approximately 60 to 90 minutes to freeze. The colder the mix and the colder the surroundings, the less time it will take to freeze.