Jean's Restaurant Supply has a design team that specializes in concept development. This fundamental understanding is critical in order to communicate with the architect and owners to create a design and layout for the drawing for the commercial kitchen and dining room of your dreams.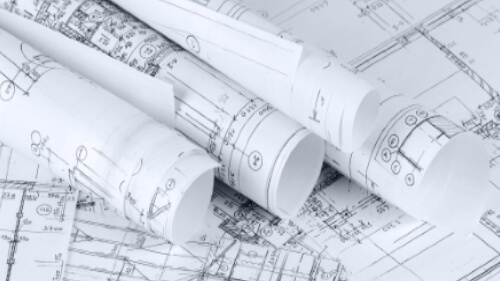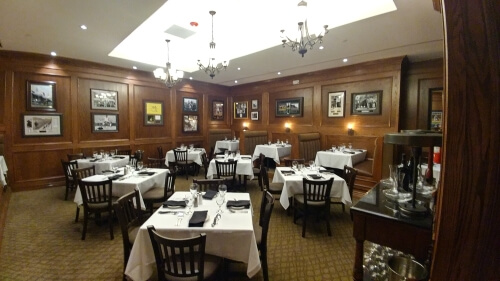 Inspiration - Innovation - Fabrication
The restaurant industry is highly competitive, with a high failure rate and a low success rate. Choosing to work in such an application can be intimidating, for both beginners and those with years of experience. No matter where you stand, you should always ask for help, especially your restaurant business is something you're passionate about. Our design team of professionals will consult with you to provide a design that is efficient and effective, whether you are opening a new restaurant, expanding your existing one, or just needing to remodel.
If success in the restaurant business is what you want, you've come to the right place. Here at Jean's Restaurant Supply, we will do everything within our power to help you in every aspect of your creation. Not only can we help you in generating the most productive layout for your restaurant, but we will also provide you with the best priced equipment and furniture as well.
Imagine opening the restaurant of your dreams, you have the tastiest recipes and best staff, but despite all of that you still find your business to be failing. Sounds like a nightmare, right? What makes it worse, is that you are doing all you can to try and figure out how to fix everything but nothing seems to work. If anything, you're losing more money than you're making and you're on the fast track to closing up.
How do you save yourself from failure?
Well, you give us a call and we'll do everything we can to bring you back up. We will work as your restaurant consultant and provide you with best formula to fit your vision. If you go in without proper planning, you could end up spending more money than you can ever regain. It will be our job to prevent this from happening by providing you with all the tools you need in order to succeed.
Branding:
Without the proper branding, how will a customer be able to recognize your business? You are going to need to create the perfect brand for your restaurant so you can stand out from the others. Think about what makes you unique, and why people should choose you instead of a different restaurant a few blocks down the street.
Using a brand strategy, your consultant will provide you with marketing plans to help kick-start your website and social media presence.
Design:
A proper, and well-trained restaurant consultant understands the flow of work in a restaurant and will know how to create an interior environment for you. They will know the best locations for you to organize your tables, chairs, as well as other aesthetically pleasing furniture you may want to include. Of course, they will put into consideration any ideas you may have and work with you to make the best environment for your customers and staff.
Front of the House:
The front of house atmosphere and aesthetic is just as important as the food you serve. An example; people will swear that the exact same dish will taste better if presented in clean, white, china as opposed to cheap plastic. A few questions to keep in mind: What level of quality do you expect your customers to perceive about your food and your business?
Here are some points that we need to consider at all times for the front of house:
Entrance to the restaurant (Pocket Door/Vestibule)

Hostess (Controls Traffic Coming Into the Restaurant)

Flow of the customer to the tables

The Look of the restaurant (Interior design)
Back of the House:
The back of the house is the central production center in a restaurant. This is the area behind the scenes that the customer will not see. Back of the house is where the food is prepared before coming out to your customers. We design the back of the house with the following considerations:
Backdoor - Needs to be wide enough to accept deliveries and provide insect protection. (Logistics and Circulation Planning)

Waste Handling Planning (Dumpster Location, Grease Trap)

Mechanical Room - Consider if its big enough to handle the size of the restaurant

Cold Storage (Cooler, Freezer, Beer Cooler, Vegetable Cooler)

Prep Area - (Sinks, Table Space, Enough Room For People to prep)

Dry Storage - (Liquor Storage, Bag In Box Storage)

Prep Cooking Area - (The Most Efficient Hood with Demand Control Ventilation, Vertical End Panels and 100% Conditioned Air for maximum employee productivity.)

Line Cook - (Most efficient equipment, two step solution, POS)

Expedite Line - (Expeditors in upscale or casual dining restaurants ensure kitchen orders are prepared in a timely manner. They check the orders for accuracy and serve as the "quarterback" between cooks, waiters and customers.)

Dish Room - (High Temp Dishwasher, Trough Drains for access water, Disposers)

Manager's Office
Bathrooms
Clean bathrooms: Important for your customers to feel comfortable.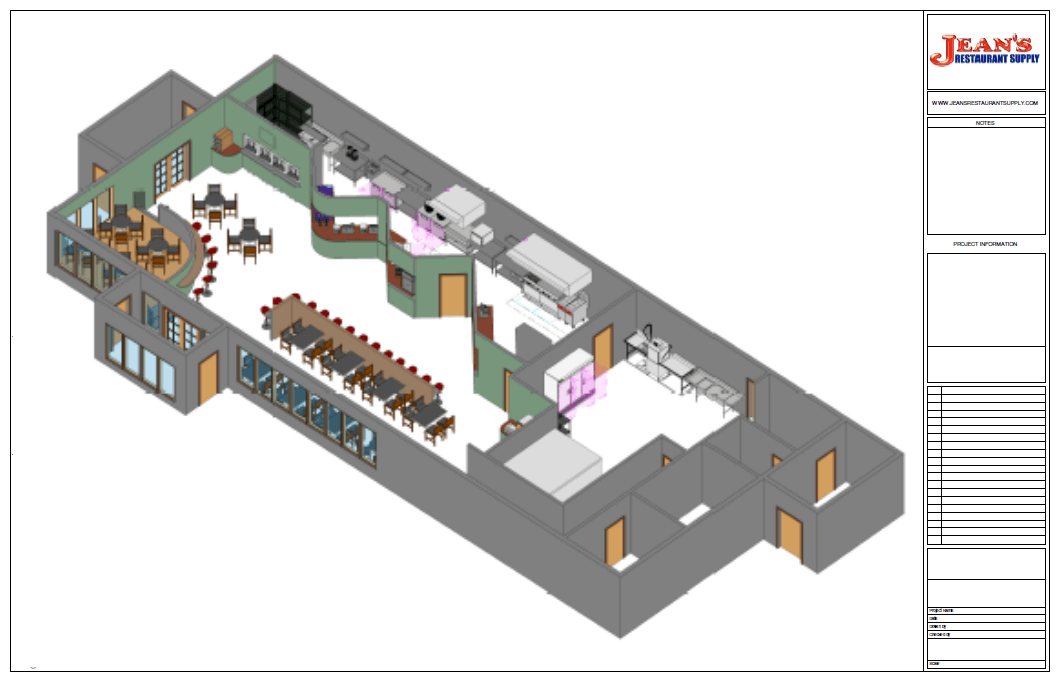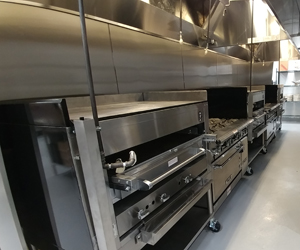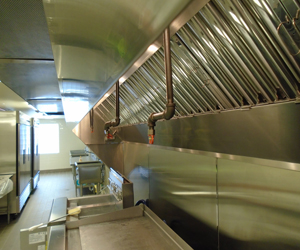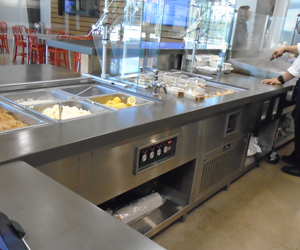 We offer consulting to owners, architects, engineers and contractors to aid in expediting the design process of a commercial kitchen.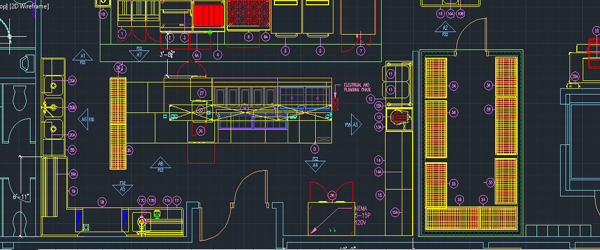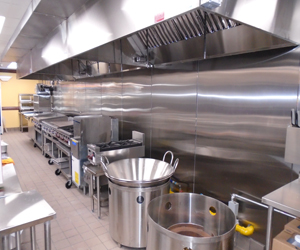 Restaurant floor plans are essential in delivering information about each piece of equipment. Water lines, drain lines, power and ventilation requirements are all properly addressed in our commercial kitchen designs.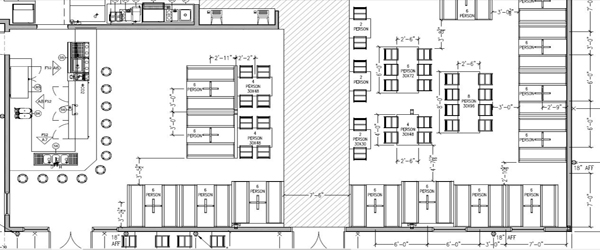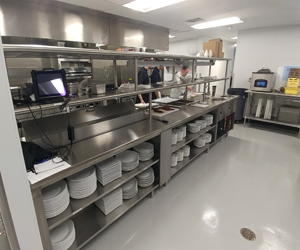 ---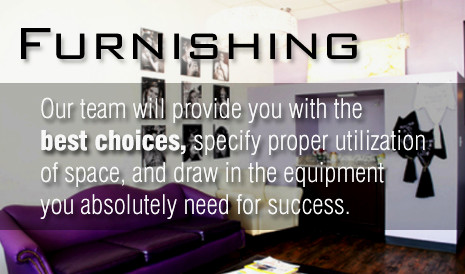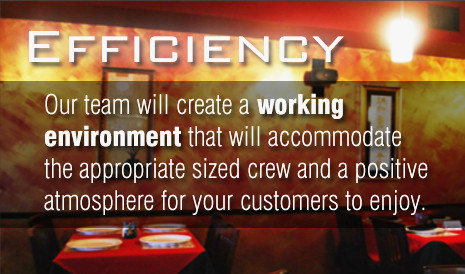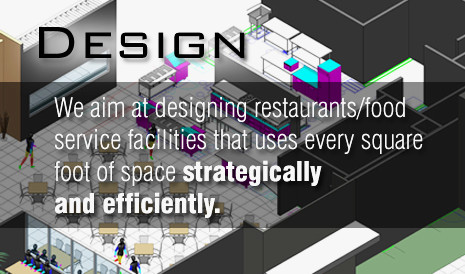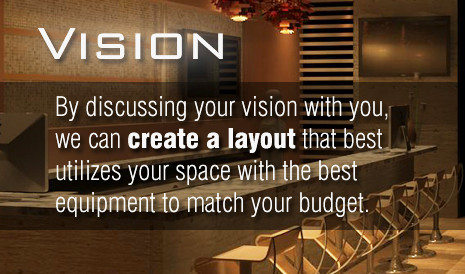 Jean's Restaurant Supply believes in one vision: to expand our customer's knowledge and to exceed any expectations that they have.
Our team of professional designers will guide you right from the ideation phase to the final furnishings of your establishment.
Our team can help you through every step of the restaurant design process:
Floor Plans
Computer Aided Design (CAD)
3D Visualization and Design Purchasing
Consulting
Building Clearances
Equipment Specifications and Schedules
Benjamin - Design Expert


brios@jeansrestaurantsupply.com
Call us for design consulting:
1-800-840-3610 Ext. 114
For the past thirty years, our goal has been to create unique designs that fit the specific needs and visions of our many and diverse customers. President and owner, David Mostaghasi, and our team of well-qualified and experienced designers have taken the visions of numerous customers and transformed them into reality. From the local taco stand down the road to the famous Schlitterbahn Water Park, we work on projects of all sizes across South Texas. Contact one of our professional graphic designers here at Jean's Restaurant Supply to start building your dream!
To find out how to get your free CAD design and blue print call us: 1.866.618.4999, Email us: contact@jeansrestaurantsupply.com, Request a Quote Click Here!