Commercial Charbroilers Buying Guide
"Consistent cooking makes for consistent business in your foodservice operation!"
So how can you pick the correct Charbroiler for consistent mouthwatering burgers, juicy steaks or tenderly cooked chicken? Many restaurant owners have asked this question. So when investing on a Charbroiler it is not only for it to last, but also to get rapid recovery and consistent cooking throughout the day. Read on to help you select from the many choices out there:
Product Fact:
The key to a successful broiler is preventing "hot spots" on the grate as revealed by the temperature profile and the white ash and rust in the center of the grate, this is due to a large temperature differential from the burner array that creates a heat plume that draws heat toward the center and leaves the outer area cooler. Thus will result in an uneven heating of grill and inconsistent cooking on the Charbroiler.
But with the burners closer together at least 6" to 4", the radiants are heating more efficiently and effectively, which will shorten the recovery time which will produce consistent cooking throughout the day. Plus it will take less BTU's per hour to maintain the proper temperature.
---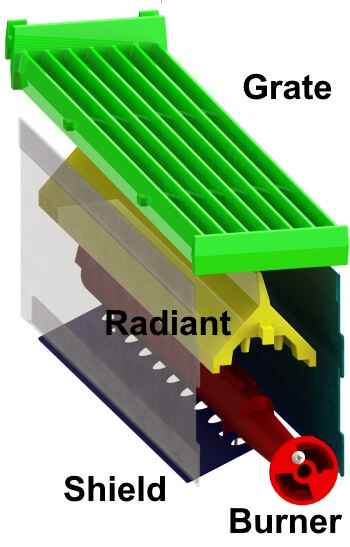 Radiants:
Most economical charbroilers are built with standard stainless steel V-shape radiants that will eventually start to warp, get brittle and eventually break due to the heating and cooling cycle which will requre to be replaced.
Instead, by having a heavy-duty steel radiants, that is constructed with high temperature alloy, this will keep from warping, rusting and breaking, providing a longer service life than standard stainless steel radiants.
But the most rugger radiant are built in cast iron, this metal is virtually indestructible with a must longer service life span than stainless steel, and able to retain heat evenly up to the cooking surface, but due to the corse surface it's difficult to clean than stainless steel. On the plus side it will take less BTU's per hour to maintain the proper temperature.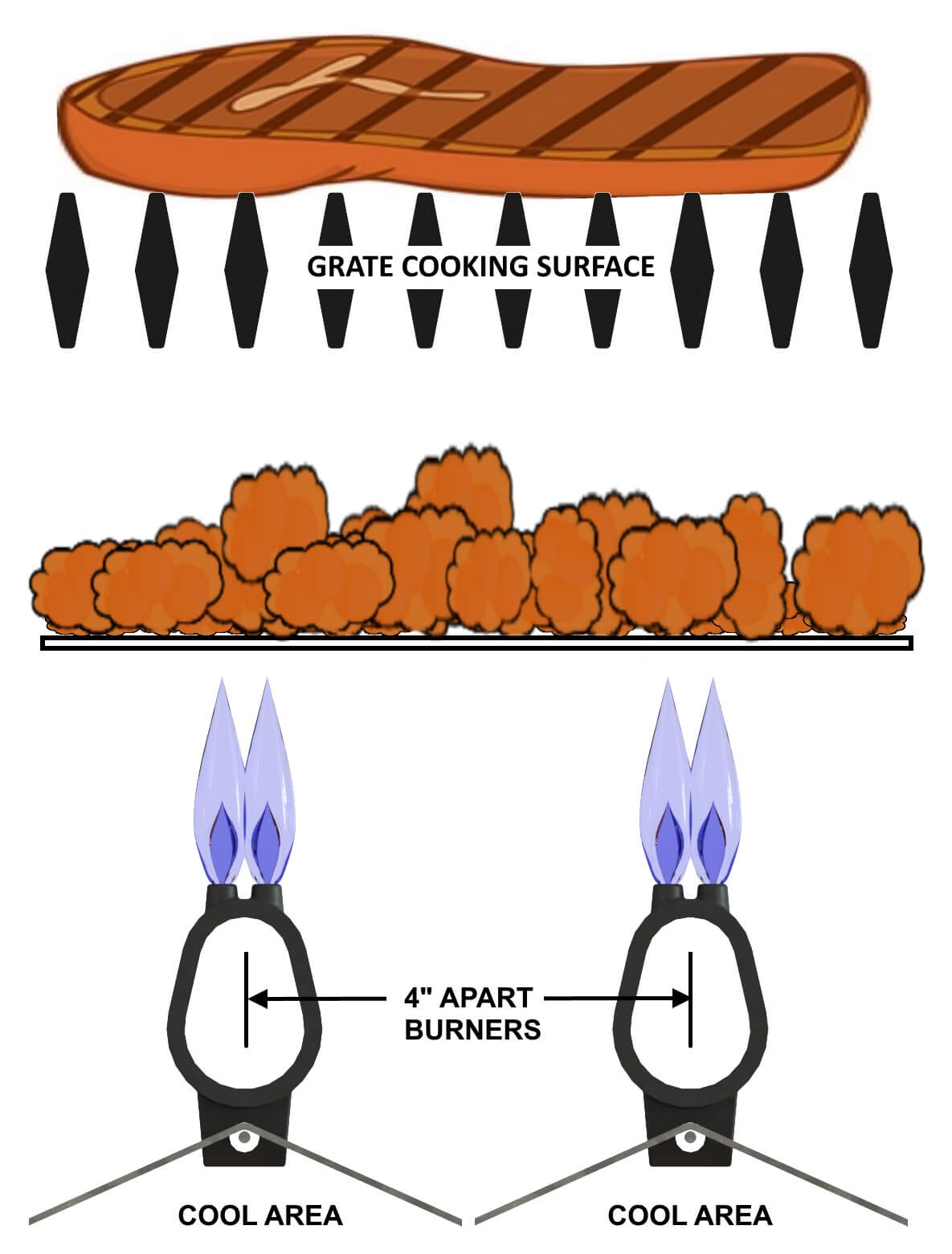 Lava Rock:
An alternative choice to a metal V-shape radiants is using lava rocks. This are chunks of porous rocks layered on a grate above the burners that will achieve a similar results as using a radiants, diffusing the heat evenly across the cooking surface. By having lava rock charbroilers it will produce a much richer flavor and aroma than radiant models would, solely because the lava rocks will absorb the grease and steadily vaporize it up into the food you're broiling.
Unfortunately the disadvantage on using lava rocks are they are more costly and labor intensive, because the rocks are needing to be replaced every few weeks or possibly more often, depending on how heavily the equipment is used.
---
Charbroilers with Radiant or Lava Rock are sourced by Electric or Gas and are available in several widths in 12-inch increments. The most common width sizes are 24", 36", 48", 60", and 72" inches. From all this choices you'll need to select the right equipment that will fit within the available space and able to handle the amount of cooking, also needing to meet the equipment clearance requirements. Charbroliers are required to be at least 6 inches away from any combustible material, walls and other cooking equipment. Be sure to include in your building plans all the requirements and clearances before selecting your charbroiler.
---
Burners:
Burners are the main component in a charbroiler generating gas flames (heat) to the radiant or lava rocks. Burners are measured by the amount of heat it generates called BTUs (British thermal units); hence the greater amount of BTU's generated, more heat will radiant to your cooking surface resulting a consistent even cooking.

For comparison, an economical 24 inch charbroilers are generally built with 2 burners and spaced every 12 inches, also each burner is rated to generates 35,000 BTUs each, totally to 70,000 BTU's. But with a higher grade 24 inch charbroilers which are built with 3 burners, spaced at 4" inches apart, with each burner generating 36,000 BTUs each, totally to 108,000 BTU's, more powerful. Giving cooks more broiling performance, consistent cooking and energy efficiency.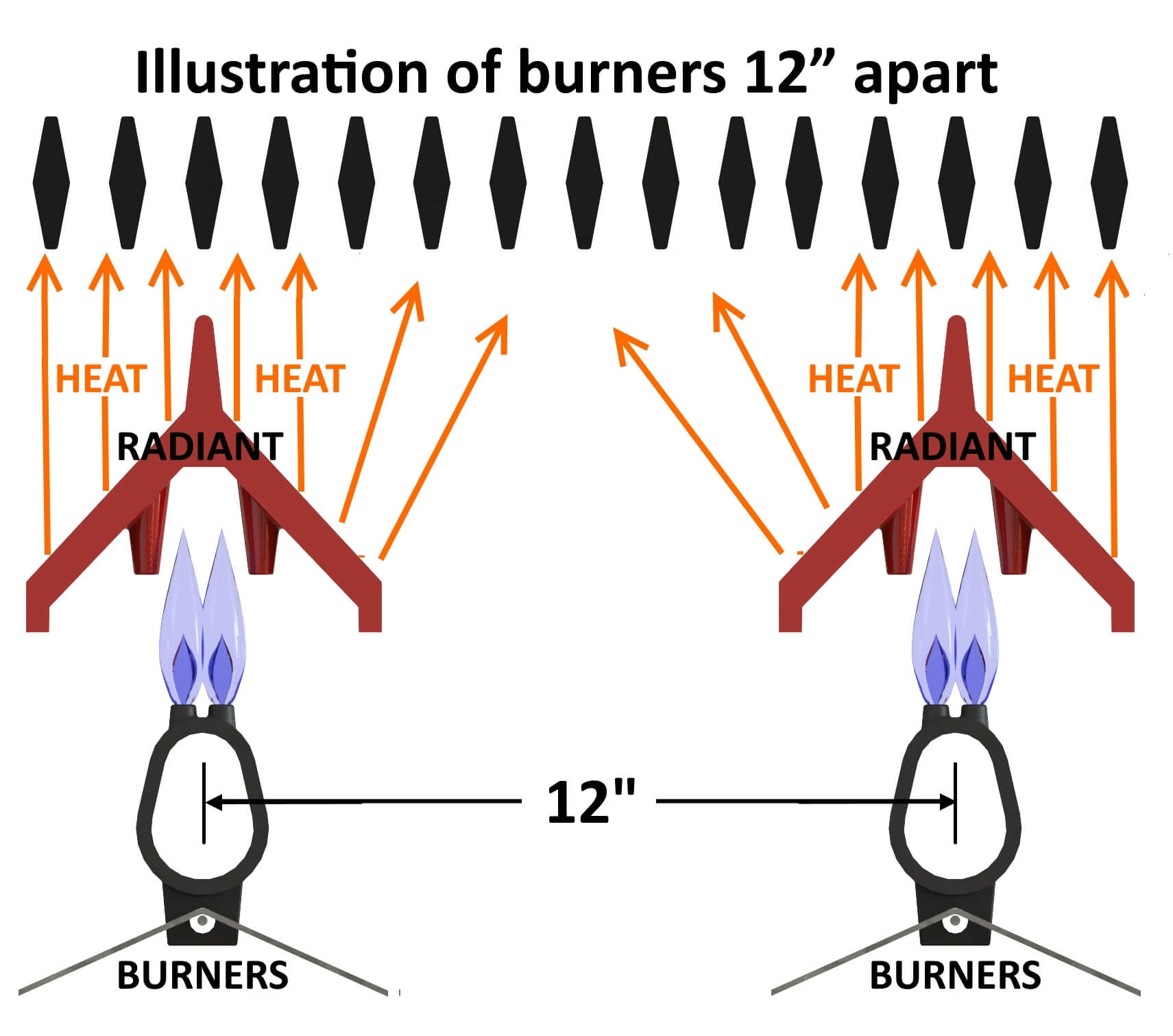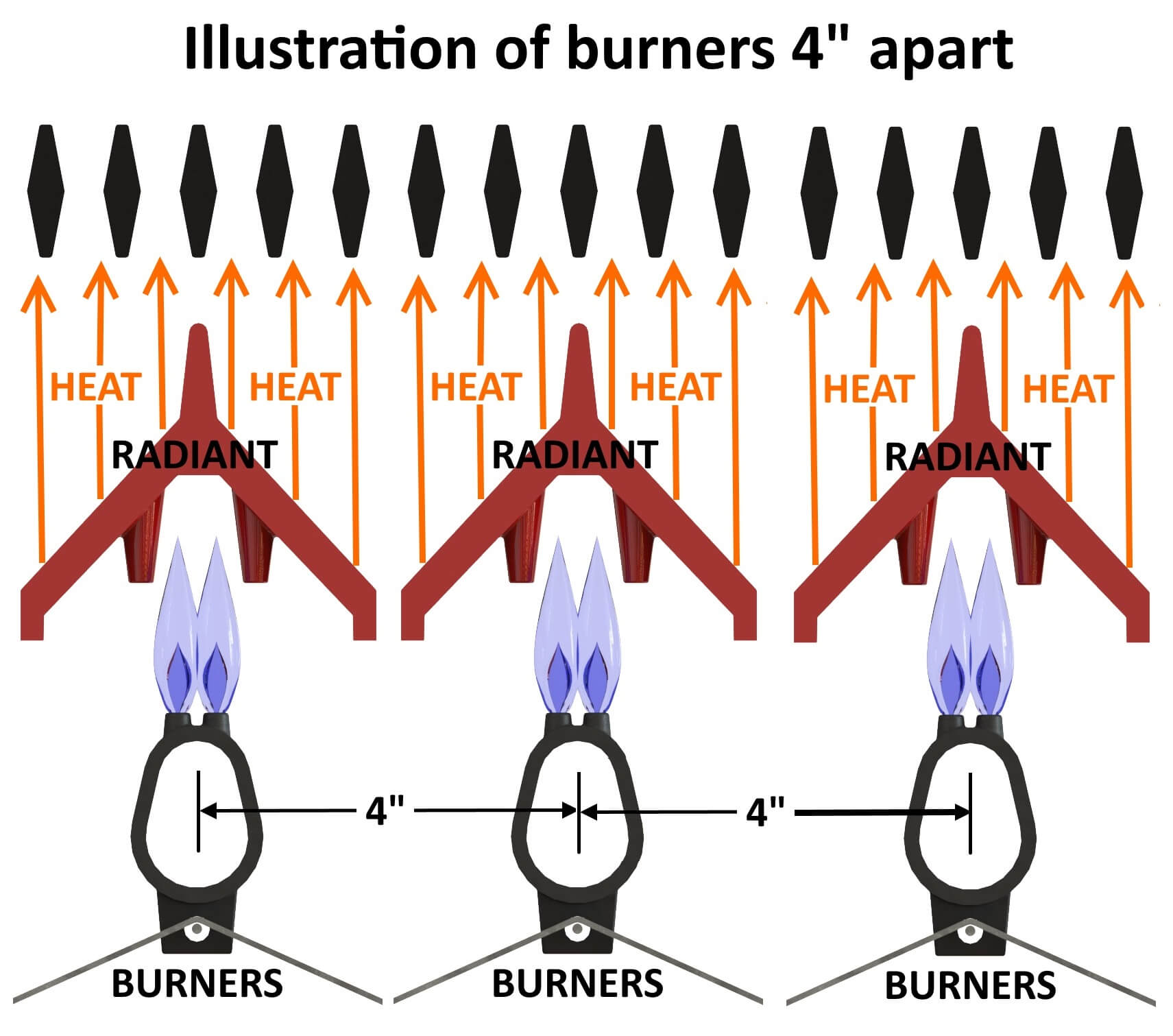 Question:
From these illustrations, which configuation will provide you with an even, consistent cooking?
The radiant spaced at 4" apart or 12" apart ?
---
Grates: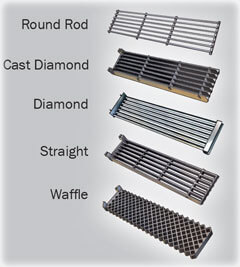 The grates on top of the charbroilers are grates used for the cooking surface. The majority of all commercial charbroilers are made of cast iron, due to it's durability and even distributions of heat. These grate are mostly designed reversible, with one side to grill steaks and burgers, and the other for more delicate foods like fish. Some manufactures have specialty grates that are available separately.


Waffle grates will leave unique grill marks on products. This style is best for cooking leaner cuts of meat like chicken, since the waffle texture doesn't drain grease to control flare-ups as well as standard grates.

Floating rod grates are built with individual rods that spin freely within the grate's frame. This style has the advantage of being easier to clean than other types. In addition, floating rod grates tend to last longer since the materials can expand and contract freely without developing the same weak points as rigid grates.

Steel grates are lighter and easier to clean than cast iron grates. This makes equipment easier to use and maintain, though that comes at the cost of the superior even heating and heat retention that cast iron offers.


---
Product Compare Chart: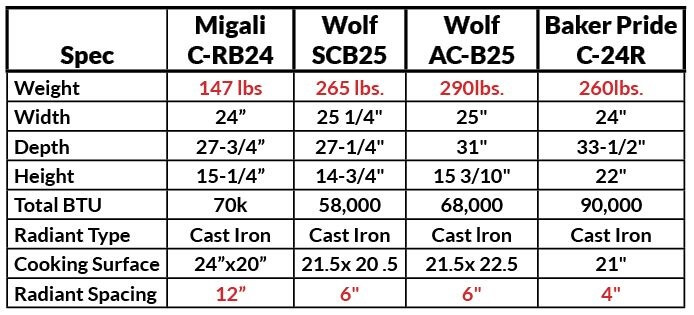 Question:
Which Charbroiler is the right choice and why?
The best choice recommended is Bakers Pride because:
1. Double wall insulated construction for consistent results.
2. Burners are 4" apart and has a heavy cast iron radiant so you will get a consistent temperature on every inch of your grates and it will prevent hot spots.
---
Charbroiler, Gas, Countertop
Competitor Series Charbroiler, countertop, natural gas, 36" W, cast iron radiants, 36" x 20" cooking surface, (3) 35,000 BTU "U" shaped burners, manual controls, removable grease trough, stainless steel exterior, (4) adjustable stainless steel feet, 105,000 BTU total (configured for Natural Gas, LP Conversion Kit included)
---
Charbroiler, Gas, Countertop
Charbroiler, burners with standing pilots and cast iron radiants, manual gas valve controls, stainless steel front, sides, top trim, backsplash & grease trough, cast iron top grates, 4" adjustable legs, CSA, NSF
---
Charbroiler, Gas, Countertop
Dante Series Charbroiler, gas, countertop, 24"W standard profile, stainless steel radiants, adjustable top grate assembly with floating 1/2" dia. steel rods, 6" stainless steel work deck, stainless steel grease pan, stainless steel top, front & sides, CSA Star, NSF, cCSAus, CE
---
More Information:
Once you purchase a char-broiler, there are a few steps you may take to get the best tasting food and the most productive work from your unit. Here are some guidelines to follow when using your char-broiler:
Different type of grates produced different affects on your food. Grates are designed to drain fat away will maintaining the classic "charred" grill marks on your food. Choose a grate that will best match your menu selection.

A common practice is to season the grates before beginning your service. This involves preheating the grates slightly to open their pores and then basting the grate with a seasoned oil.

Preheating the grates is good for keeping products from sticking to the charbroiler's grates. Another great idea is to baste your meats in seasoned oil before bringing them to the broiler. This enhances flavor and helps reduce sticking.

Place your greats at an angle for effective charbroiling. By placing your grate this way you gain more control over the heat of your food and reduce fat by draining grease away. For well done food, place your product furthest away from the heat source in the top position. This allows the meat to cook slower and more thoroughly. For rare cooking, place you meat in the lower position to cook the outside of the meat quickly and leaving the inside tender and rare.

Always remember to maintain your broiler and to give your grates a good cleaning with a wire brush. This will ensure that your unit gives you years of productive work.
"Rapid Recovery Time = Quality Product"
For useful tips and information, read our Buyer's Guide on Commercial Charbroilers !
Call us today:1-866-618-4449
"Let us take the worry out of choosing the right supplies and equipment for all your needs