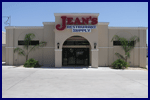 Ventilation is the single most important factor in the design, construction, and operation of a commercial kitchen.
An exhaust hood is an air intake device connected to a fan that removes smoke, cooking vapors, grease, steam, heat, and odors that are made by cooking and ware washing equipment.
There are several different types of vent hood systems on the market, the most popular being the Type I Canopy hood. A canopy hood is basically a hood that is hung from the ceiling and covers all of the cooking equipment under it. None of the equipment can extend outside of the hood and there should be a minimum of 6" clearances to spare on each end of the hood. Canopy hoods used for cooking equipment will also have a "compensating hood", or fresh-air make-up hood around the perimeter of the canopy hood to bring fresh outside air back in to replace the exhaust air going out. Therefore, there are two integrated components to a kitchen ventilator hood - exhaust air and make-up air.